Happy Monday everyone! Linking up with Carissa today at lowercase letters for some fun miscellany monday :) Here is what's going on this monday: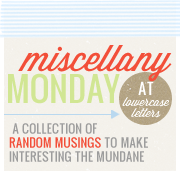 1. I wore sandals to work today and my feet are looking pretty white. I actually had a decent tan going on this summer, and it's starting to fade, which is sad :( I know that having a tan has no eternal value, but it makes me happy.
2. Our air conditioning is broken. Again. And of course the temperatures have decided to rebound back into the 90's to celebrate the fact that our a/c does not work.
3. We participated in the world's largest water balloon fight again this year. You can read about last year's adventures
here
. Basically the Christian Student Fellowship at Kentucky puts on a massive water balloon fight every year at the beginning of the semester to try and break the world record. This year we again broke the record and had lots of fun doing it. We brouth lots of LCA students with us and ran around like crazy people. You can watch the video of it below:
The water balloon fight started a little after midnight on Friday night. I had a 4 hour engineering class at 8 am the next morning. It was a little rough.
4. Speaking of weekend fun, one of my friends from high school just moved to Lexington with his wife. His name is Hunter and he also happens to know Derek because they volunteered at a yougn life camp for a month together in college. Since they are new to town and don't know many folks, we went out to dinner together Saturday night. They wanted to go to a restaurant that they could only get in Kentucky, so we took them to Hall's on the River. A fun little restaurant that is about 10 miles south of town, and overlooks the Kentucky River. As we were checking out the menu and discussing what we would order, either Hunter or his wife Mary Beth asked what lamb fries were. It was on the menu but none of us knew what it was. We were thinking it was probably fried lamb. So the waitress came and took our order and I went ahead and ordered the lamb fries. She asked what sides I wanted. I hadn't thought that far ahead so I took a minute to see what my options were. While I was doing this, Hunter asked her what exactly lamb fries are. She says in a very matter of fact way, "it's lamb testicles." WHAT?!?!?!? I just ordered lamb testicles! We all busted out laughing. The waitress asked if Iwanted to change my order. I said yes.
You all. I was about to eat lamb balls. If Hunter hadn't asked her what they were, I totally would have ordered it. Mary Beth could not believe the waitress didn't double check to make sure I knew what I ordered. Hunter said I sounded so confident in my ordering he wouldn't have either. I'm so glad he did not share my confidence in ordering things that you are not sure of what they actually are. Now that I look back on it, thye were described as a "rare delicacy". That should have been my first clue. We laughed the rest of the night about the lamb balls.
I feel like there are more things I could write about, but we'll just end it on that high note. Hop on over to lowercase letters and join in the miscellany monday fun!