Thought I would join back in the fun at Miscellany Mondays with Carissa at
lowercase letters
. She is super sweet and has the cutest blog so if you haven't already, you should check it out!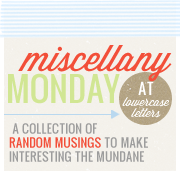 1. I can't stop thinking about the finale to Lost last night. I'm not sure how I feel about it. They definitely provided closure, but they left so many loose ends untied. I'm pretty sure I understand it, I just don't know if I think it was a cop out, or if I'm ok with it because that is what they had planned all along. I could write a lot more about this, but I know that not everyone is a lost junkie, so I will leave it at this.
2. Taking my dog to the non-dog park (i.e. park where dogs are allowed but must be kept on a leash) is an interesting experience. First of all, he is a spaz, so keeping him under control requires undivided attention. But people are so friendly. Little kids will come hang out with you because they like your dog, and random people will have conversations with you. It's kind of fun. Even though he is a total spaz.
3. I had such a fun weekend. Fun things included spending time with friends on Friday night, taking Moose to the (non-dog) park Saturday morning, spending Saturday afternoon relaxing with D, graduation party, Saturday evening with friends (my favortie thing - sitting outside talking, and its still warm even after the sun goes down), church, helping Dererk with the end of the year soccer banquet, picnic with my friend Kaelyn, and watching the Lost series finale with friends on Sunday evening. It s such a full and fun weekend.
5. My parents are in New Jersey right now for a marching band reunion for my dad. He went to high school in New Jersey and they invited everyone who was every in marching band there back for a huge reunion. My mom says they are having a great time and she is loving it there and I need to go. Add that to the list of places I would like visit.
6. I just noticed that I skipped number 4. I have a masters degree in engineering and can't count to 5. Awesome.
Happy Monday.