I finally got my act together enough to do a Miscellany Monday post! Head over to
lower case letters
and join in the fun! Now onto my random post: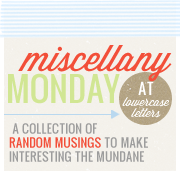 1. I stink at waking up if I don't have to. Most days of the week I wake up anywhere from 5:45 to 6:15. So on Saturday and Sunday mornings when I don't have to wake up so early I sleep in. The problem is that lately I have been sleeping in past 10 am! I feel like I waste so much of my day, and then on Sunday night, I'm not tired so I stay up late and then on Monday I am tired again. I wish I could make myself wake up earlier on weekends!
2. The LCA girls didn't win the state championship this weekend :( I was so sad for them. It stinks to make it all the way to the championship game and not win it. But they played well and we had lots of fun watching them - even though it was freezing.
3. Speaking of freezing, the weather got cold here over the weekend. So I made my first batch of chili this fall on Saturday and a bunch of our LCA friends came over and we all ate chili before we went and froze watching the soccer game. I love chili on chilly fall days :)
4. Derek and I are going to chicago this weekend to visit our friends
Kari
and Stephen, and Sarah! I am so excited about this I can hardly stand it! I am going to try to get Kari to teach me some of her crafty ways while we are there. Only 4 more work days...
5. Derek is going to the Bengals vs. Steelers Monday Night Football game tonight with
Rachel's
and
Katie's
husbands which means that I have a whole free evening ahead of me. Sometimes I get overwhelmed with the possiblities with what I could do with a free evening and end up wasting it. I will try my best not to do that tonight.
So, I think that pretty much covers it for this Monday. Hope everyone has a great week!