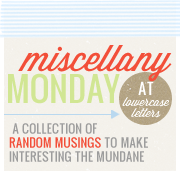 I love Miscellany Monday because it takes the pressure off of trying to come up with something to post about. Every Monday, I know I can just write the random goings on in my head, and I don't feel bad about it, because everyone else is doing it too! Ok, so here's my random:
1. Do you ever feel like you need a vacation when you get back from vacation? Oh my goodness this past week has been so busy. (Hence the lack of posts.)
2. My camera is officially broken. I took it to a camera store and they said that you have to send it back to the manufacturer to get it repaired, and for the cost, it's not worth it, you might as well buy a new camera. Awesome.
3. Regarding comments from the last post - Marco Island is in South Florida, gulf coast side. It's just south of Naples. And yes, Jenna, the picture was taken at Kokomos - thanks for the recommendation - it was yummy!
4. I am loving my herb garden right now. I've been adding fresh herbs to everything I can. They are so good. I'll have to share my pesto recipe with you soon. It uses lots of fresh herbs and is very tasty.
5. I have been a failure at running/working out in any way. Vacation didn't help. Neither has the hot weather. I'm pretty sure that I have lost all in shapeness that I gained from running the half marathon.
Ok, I think I'll leave it at that for now. Head over to
lowercase letters
and join in the fun. And Carissa has a brand new baby girl, so if for no other reason, head over there to look at the precious pictures of her little bundle of joy :)