My blog friend
Callie
is having a link up today where people can share their salvation stories. I know I've talked about mine here before, but I thought it would be fun to write the whole thing out and share.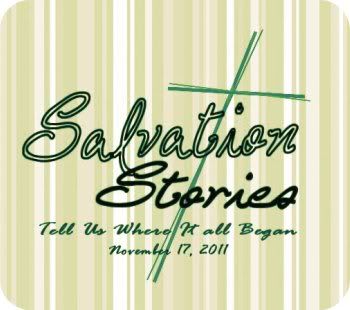 I grew up in a very loving family, and loved going to church when I was little. I loved Sunday school class. I was the annoying kid with all the answers. One thing I remember most about Sunday school is that I loved the service projects we did. I remember when we would collect canned food for the hungry. I brought in lots of bags full of food and was so happy that I could contribute. There was also a house right next to our church where homeless families would stay, and I remember preparing a meal for them and having dinner with them. I loved to do things like that. Growing up, I was a "good" kid. I didn't get into trouble. I was a typical oldest child overachiever.
When I was in high school, I started going to Young Life. I would go to these gatherings they had on weeknights where the cool upperclassmen would get up on stage and do hilarious skits, people would play ridiculous games, we would sing songs and someone would talk about Jesus. I loved everything about it. In the spring of my sophomore year, someone told me about Young Life camp. Since I loved going to Young Life so much I figured camp would be just as awesome. So I signed up.
And this is where I begin to see God's hand in my story. Because I signed up for camp without a single friend going with me. There were probably over 100 kids from my high school going on this trip and the only friends of mine that were going were some of my guy friends that I grew up with and had been friends with since elementary school. Which is better than no friends, but obviously we wouldn't be in a cabin together or on the same bus. Luckily I made friends with a girl named Sarah who was a year older than me that was going too. She didn't have very many friends going on the trip, so we were able to stick together. But it still amazes me that I signed up for this trip I knew nothing about, without any of my close friends.
So I arrived at camp and the whole week was amazing. There really aren't words to describe how awesome Young Life camp is. There were crazy games and activities we would do in the morning and in the evenings, and afternoons were free time spent by the pool or ziplining or blobbing into the lake, or making crafts or going on the giant swing or doing one of a million other fun things.
Also, in the evening, they had club, where a speaker talked about Jesus. I was tracking with everything the speaker was saying until one evening toward the end of the week. When he shared about Jesus' death on the cross and resurrection. It was like I was hearing it with fresh ears. I knew Jesus died on a cross and rose again. I had been told that before. But I never understood what it meant to be crucified, the significance of him being raised from the dead or what it had to do with me. All of a sudden I understood that because of my sinfulness, I couldn't have a relationship with God, but because of Jesus' sacrifice, I could.
It was such an incredible feeling, knowing how loved I was. Knowing that Jesus would go through the agony of being crucified for me. I knew right then that I wanted to accept this gift and spend the rest of my life living for Him.
I came home from camp a changed person. I was so excited to read my Bible. I wanted to know everything that it said. I went to campaigners, which was basically a bible study that Young Life had, and soaked in as much as I could. I invited all my friends to come to camp the next summer. And some of them did. And some of their lives changed too. And the following year, one of those friends and I got to lead a whole cabin of friends at camp. Which made me decide I wanted to be a young life leader in college. So I spent the next 10 years after that sharing Jesus with high schoolers through the ministry of Young Life.
I would say that outwardly, my life might not have looked a whole lot different after I decided to follow after Christ. After all, I was a "good" kid. In fact, I think I probably messed up and made more mistakes after. But the thing that changed was my heart. Before I was being good so that I looked good. I was living for myself. Now, I had a relationship with God and desired to live for him. So even though I made mistakes, and still do, as soon as I realize what I have done, I always turn back to God, and ask for forgiveness and continue to follow after Him. It's not a one time thing. It is a daily commitment. And that has made all the difference in the world.
If you want to read some posts about young life camp you can do so here, here and here.